Search engine Optimisation Techniques
we're going to tell you how we it!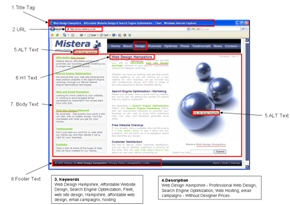 As specialists in Search Engine Optimisation (SEO) Techniques, we only promote ethical (white hat) methods for improving your search engine ranking.
This means we won't employ any method that could be considered underhand, or any means of "cheating" the search engines, such as keyword stuffing, using white text on a white background, using doorway pages, or anything else that could be seen as unethica, which could in fact end up harming your search engine listing or that could get your site "blacklisted".
There are two areas that we concentrate on:
On Page Factors
Off Page Factors
"On Page" Factors
The elements that we optimise within the pages of your site are known as the "On Page" factors, and relate to:
Your Keywords
The words and phrases we optimise will be based on the following criteria:
Are central to the products or services that your business provides
Are searched on regularly by search engine visitors
Present an opportunity to become a leader in the word/phrase category
Are used in content on your competitor's web sites
Are words and phrases repeated in the page content
Coding Tactics
Code is the most neglected aspect of search engine optimisation campaigns. Well-written, standards-compliant code makes a site load quickly, and opens it up to search engines.
Code optimisation is part of a successful SEO program; it removes browsing obstacles from users and search engines.
When search engines visit and begin to index a web site, several factors are taken into account with regard to code and rankings:
Content to code ratio: Search engine spiders want to see the highest possible ratio of content to code.
Code accessibility: Search engine spiders are very simple, and generally fairly standards-dependent. They need standards-compliant code in order to access all areas of a site.
Poor SEO ethics: More advanced search engines, such as Google and Yahoo, look for any attempt to deliver one set of keyword-rich but hard-to-read content to search engines, and another, more people-friendly version to everyone else. When they find this type of search engine spam, they may demote or ban your site. No long-term search engine optimization strategy should employ these kinds of tactics.
Basic HTML & CSS
To enable search spider indexing the following coding practices will be used:
Images: images used to display complex content (graphs/charts), and images used to serve a business need will have alt="" text describing the image in plain text.
Navigation elements: will be linked using HTML text rather than graphics. Formatting, colours, and size will be manipulated using CSS.
Headlines, subheads, and callout text: a hierarchy of importance will be determined and reflected in the code used to communicate the level of importance to the search spider. h1-H4 tags will be used to indicate the importance and relevance of keywords and phrases. Formatting, colours, and size will be manipulated using CSS.
Bolded Text: Between 1 and 4 instances of keywords and phrases in the body copy will be stylised in bold text to indicate importance and relevance.
Page Titles: The most important keywords and phrases will be used in the page title in a manner consistent with a naming convention. Page titles will be limited to no more than 5 words.
Meta Information: Meta name and description tags will be used, the content used to create Meta name and description tags will be based on the page content.
JavaScript: Any JavaScript code used will be imported from an external .js file and will be created using the proper commenting code to hide it from search engine spiders.
Site Map: A text-based site map with links to every page site will be created in order to assist a categorical and fast indexing of all pages.
Advanced Coding Practices
To enable the highest degree of search indexing the following development tactics will be employed:
Internal Links: Wherever possible, keywords and phrases will be used as links to content on the web site to pages where the keyword or phrase is used in the destination page's title or headlines and the content is specific to the keyword or phrase being linked.
File Naming Conventions: pages where the content is very specific to a keyword or phrase will have file name which includes the keyword or phrase.
Note: Attempts will be made to accomplish this tactic; however, relevant page content will determine the actual naming of the page.
"Off Page" Factors
The "Off Page" factors relate to the inbound links to your site. An SEO strategy is worthless unless it has a clear policy for creating inbound links to your site from other sites with relevant content. Highly prized are inbound links from .gov or .edu sites, as Google usually places a large amount of credibility on these links.
Link Building
Link Building is not about getting as many incoming links as possbile, but more about getting selected links from quality sites, that offer related or complimentary services to your own. Far better to get half a dozen links from a number of sites with a good Google Page Rank™ ,than to get fifty links from unrelated sites with low Page Ranks.
Anchor Text
The actual text in the hyperlink from another site to your own is very important. This linking text is known as the Anchor Text and is one factor often overlooked by SEO companies.
Picking the right Anchor Text is therefore very important in a Link Building strategy.
How Much Does it Cost?
Our Basic Search Engine Optimisation Service starts at only £175 +vat per page. For this one off fee we will:
Investigate your chosen keywords for popularity
Suggest alternative words/phrases that may be rank highly
Investigate your competitors and see how they achieve their ranking
Create the Meta Keywords tag for the page
Create the Meta Description tag for the page
Suggest changes (as required) to your page copy
Submit your amended pages to the main search engines
Understand visitor click activity with a heatmap